Description
Product Description
Material: PA
Rated current: 32A
Rated voltage: 250V/600V
Wiring Range:0.08-4.0mm²/28-12AWG
✨Easily connect the wires at home.
You can
disconnect 
any
 individual wire
and still have the
common point connected
and
conducting.
🔥SAFE — Selecting the best flame retardant insulating material,
This Push-In Terminal Block Wire Connector connects wires with a SNAP!  Just push in wire & lock to secure! This is your perfect connector for a variety of electrical and even hobby projects for a fast, easy, and reliable wiring connection.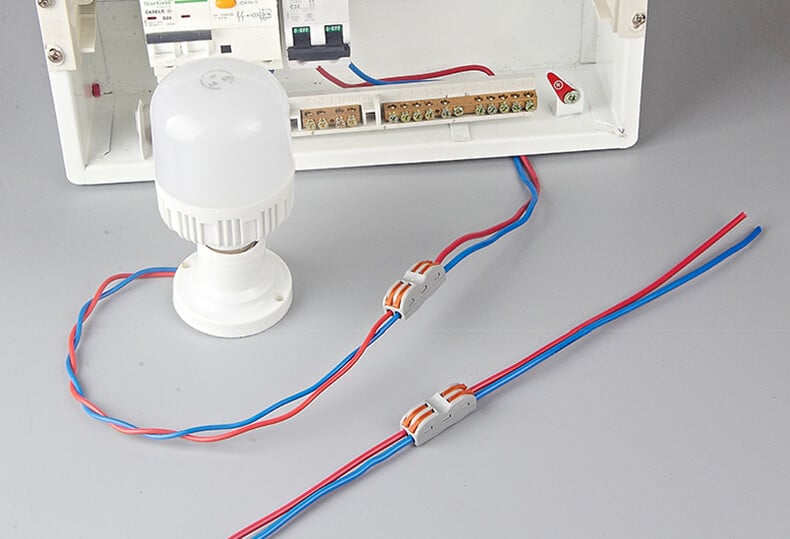 💖SUPER STRONG CLAMPING.
Tough clamping strength, It also resists vibration and mechanical movement, making it perfect for machine wirings and in automotive applications. Wires cannot be pulled out when it has been snapped and locked in place!
🆒♻EASY, SAFE, AND SECURE.
This Wire Connector is suitable for Soft And Hard wire. Every junction independent shrapnel, different wire managed separately, different diameter can be connect security, every cage surface have test hole every, electric test no need to remove tape. What's more, it is a reusable connector.
🚗WIDE APPLICATIONS 
Flame retardant industrial-grade plastic shell and copper connectors are perfect for industrial wiring, at home & automotive, and various wiring that involves lights, convenience outlets, appliance, building wiring, junction box wirings, electronic control system, and a lot more. 
Product description:
✅Giving up electrical tape will save you a lot of working time, and you don't have to worry about the loosening and aging of the tape.

✅You don't have to entangle all the copper wires so that you may unravel the additional branches later and cut the brass wires so that the length of the brass wires is insufficient to connect.

✅There is no need to worry about installing ceiling fixtures anymore. If you need to remove lamps and fans to clean, you can do it anytime, without worrying about the confusion of wiring links. Even when you stand on a ladder, you can remove and connect the wires with one hand.
Product features:
100% SAFE AGAINST ELECTRICAL SHOCK  - PA66 rating modified nylon is weather-resistant, resists corrosion, and aging and is able to tolerate low-humidity even high-temperature changes. Each of its independent junction is insulated to withstand a high tolerance of 4KV ensuring utmost safety. It also conforms to various safety standards for your peace of mind.
WIRE GAUGE SUITABILITY - Connects different types & sizes of wiring. Suitable for solid and stranded wires connections, voltage range of the connector is from solid/stranded size of 0.08-2.5mm2 / 28-14AWG. 
HASSLE-FREE MAINTENANCE - Also helpful to make service, re-works, and repair maintenance so much easier. It also uses lesser space in an outlet, junction, and light switch boxes making wires neatly harnessed and easier to identify.
REUSABLE - Be able to make various prototypes using these connectors for a variety of your projects. It can be used and reused infinitely, assembles and disassembles just as easily so you may a lot more of your time making your projects work.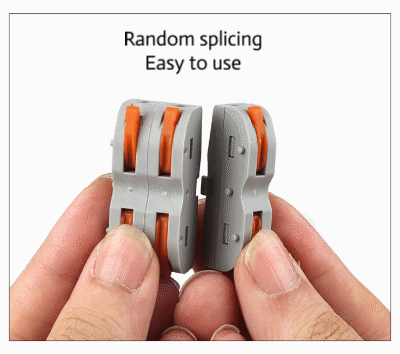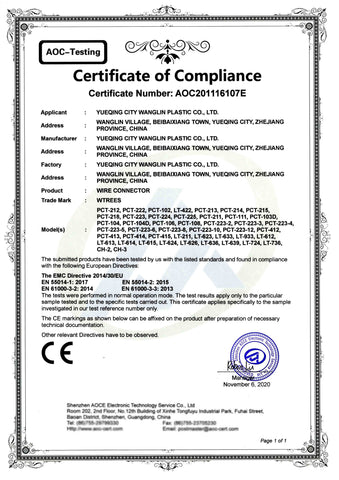 Payment & Security
Your payment information is processed securely. We do not store credit card details nor have access to your credit card information.